Info
Several essential factors are considered before working on your hair such as: your natural hair flow (hair stream) to prevent any discomfort or damage, your natural hair color, texture, and your skin tone in order to create a natural looking hair, the way it feels, flows, styles, and blends.
WHY VBE?
We provide superb quality hair, and we use the safest premium colors and products. Your satisfaction is GUARANTEED with VBE when you follow the proper maintenance instructions, we provide you with the needed instruction sheets, the recommended products at wholesale prices, and free troubleshooting in between appointments.
WHY BEADS METHOD?
* Individual strands extensions (I-tip) in both Beads and Bond methods can give you a versatile ability to style your hair and extensions can be elevated 180° to create updos and styles. This flexibility can't be achieved by tape or weft extensions since the tab or rack are too wide, and elevating them is unsafe.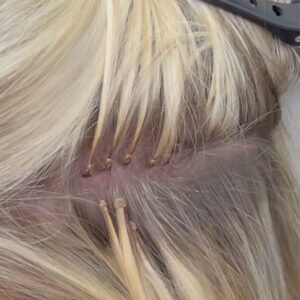 * No glue or bond is applied onto your hair. Removing or maintaining these extensions doesn't require using chemical solvent or using pliers to break the bond. Much of the damage to your hair happens when the bonds get broken by pliers, and the extensions strands getting pulled out of your hair.
* Unlike Bond extensions, Beads extensions can be used for over a year if maintained properly at home (avoid hot tools), and by getting the required maintenance every 6-8 weeks.
* By utilizing MICROBEADS or MICROLINKS, the extensions can be re-bonded into much smaller sizes to fit those tiny beads. They can be applied high at crown, temples, and front hairline undetected, so you can get volume where you need it the most.
WHAT CAN GO WRONG WITH BEAD EXTENSIONS?
Since the extensions strands aren't glued to your hair, they are more susceptible to slip out if unrecommended products are used, or the hair is excessively pulled during styling(whereas in Bond method, your hair will be pulled with the strand).
When Beads aren't applied with proper clearance from the scalp (3⁄16"- 1⁄4"), you may feel discomfort, they should be adjusted. Also, less than 2% of clients may experience an allergic reaction to the Beads, the extensions can easily be removed.
WHY TAPE METHOD?
Tape method has 3 advantages:
Fast application, though maintenance can take the same time as the beads.
Tape extensions can provide a higher density compared to Beads for the same area, they are a good solution for thicker hair.
They can be more affordable.
WHAT CAN GO WRONG WITH TAPE METHOD?
* Limitation of elevating the extensions 180° to have an updo style.
* Tape extensions MUST be maintained within 6 weeks, otherwise they may twist and cause damage to your hair.
* Maintaining tape extensions is messy compared to Beads method, your hair may have residues and sticky strands, it usually requires alcohol and oil-based mist liquid removers. Also, the proper way to maintain the tabs is by removing the used sticker inserts and replacing them with new ones, unfortunately some places apply the new inserts directly on the old ones, which will cause sliding and slippage.
* Most tape extensions are limited to a 6-month lifespan.
HOW TO MAINTAIN BEAD EXTENSIONS?
Full instruction sheets will be given to you on the day of application.
WHAT ARE DOUBLE DRAWN EXTENSIONS?
Our 7-star manufacturer starts the custom order with 2" longer hair to bond it in I-tip strands, so for 18" length order, they start with 20" and DOUBLE DRAW the hair on sorting racks in order to make sure the shortest strand is 18", while the hair will have 19 & 20"  lengths among the rest of the hair. Often, other manufacturers can have shorter lengths among the whole hair.
WATER ISSUES IN LAS VEGAS
Las Vegas has the 2nd hardest water in the nation, high magnesium concentration changes the color of your hair and extensions dramatically, blonde highlights turn brassy, and brunette and red colors become muddy, dimmed and less vibrant.
Typically, the water supply in Las Vegas has about 550 particles per million (PPM), which is extremely high. In order to condition the water to be more suitable for your hair and skin, installing a water softener would be the first step, in addition to that, it's highly recommended to install filtered shower head for hard water, these 2 steps together lower the hard residue to around 50 PPM, you will notice the difference in body wash and shampoo lathering, and your color hue will be preserved.
THE EFFECT OF HOT TOOLS ON HAIR
Hot tools (Flat & Curling irons) have a very damaging effect on both your hair and the extensions. Ignition temperature of human hair is 451F°, while hot tools can reach 450F°, this places the hair under tremendous strain, particularly if it's been chemically treated. The ideal methods to dry and style your hair would be: rough dry the extensions with a blow dryer (without using any tools), or air dry (without a blow dryer or any tools). Use ceramic round brush to smooth and style the top of your hair. If you desire more curls in extensions than its natural wave, you can use HOT ROLLERS, these are by far safer than using hot tools. Airwrap blowdryer by Dyson probably is the safest on the market, with its ionic and vortex effects, it dries and styles both your hair and extensions without pulling or damaging.


I've never had this great of experience with a hair stylist in my life! Not only is the hair used 7 star quality, it is European remy hair. …..Paul also color matches perfectly as well as the texture of the hair so I can wear my hair natural as well as styled. Definitely recommend!"