Please note: For any Color or Extensions services, photos are required before setting an appointment for a thorough consultation. Photos (front & back) are preferable to show your hair in its Natural texture (not styled with a brush, nor straightened or curled by hot tools), it will be helpful if you upload the desired look as well. Please upload the photo through Contact page, or simply MSM them.
At VBE, we use premium color line: L'Oréal Professionnel. We also add Olaplex to our formulations, and treat the hair with Metal Detox as needed, all free of charge.
Services Prices
Women's Hair Cut ………………………………………………………………………………….$50, $60, $80
Color Retouch …………………………………………………………………………………………$75
Full Color …………………………………………………………………………………………………..$120+
Highlights …………………………………………………………………………….$125 (Medium) | $150+(Full)
Balayage/Ombre' …………………………………………………………………………………..$150 to $180+
Extensions ……………………………………………………………………………………………….Per Consultation
Services - Extension Methods
Vegas Best Extensions provides the SAFEST 2 methods of hair extensions: Beads and (to a certain extent) Tape extensions, see Info pages for all details.
Here is a description of each method:
Method #1 – Beads (also known as: Locs, Links, Microbeads and Microlinks):
Beads (mini color coated cylinders), extensions hair are bonded into individual I-tip shape and linked to your hair with the Bead.
This method is probably the safest on the hair since there is no bonding involved on to hair, and the extensions can be reused multiple times; maintenance is needed between 6-8 weeks; Maintenance is simple and safe, we simply open the beads with a special tool, detangle, remove the naturally shed hair, replace the bead, move the strand up and clamp it.
By using individual strands, you can get the most natural flowing, looking and blending hair; furthermore, beads are made in different sizes, so we can use smaller one on front hairline and the top layer, making them less visible and noticeable. This method is ideal for fine hair, damaged hair, or short hair because we can apply the hair extensions on hair as short as 1".
(See much more details in Info page).
We carry 2 categories of I-tip hair extensions for Beads:
A-5 Stars:
These are pre-packed, ready to use European hair extensions, main suppliers are Dreamcatchers, and Babe extensions. They can mostly be obtained in straight-body wave texture, Although DC offer steam waved (temporarily), and waved-curled, but the hair is treated, we prefer to use NATURAL wavy hair, which leads us to next category.
B-7 Stars:
This custom ordered hair is exceptional, European human Remy hair, NEVER bleached (only toned to the desired hue), NATURALLY wavy, Double Drawn (see Info page) and can match different textures, although we are limited with supply of super curly hair.
Individual strand may be custom ordered to your desired color combinations and natural texture, even we can mix 2 colors in an individual strand with desired proportions, this give us an advantage to reduce stripy look, and create a better blend, no hair manufacturer offers this option. It can take 4-8 weeks to order this 7-star custom hair in order to get the perfect match to your color and texture.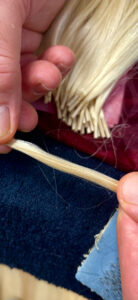 Custom order strands can be obtained in 2 colors and the desired proportions.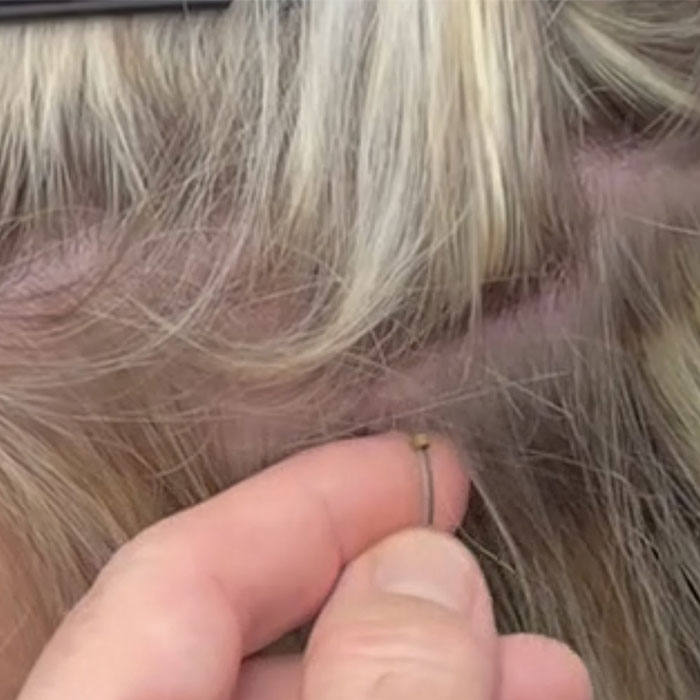 Thread a bead into your hair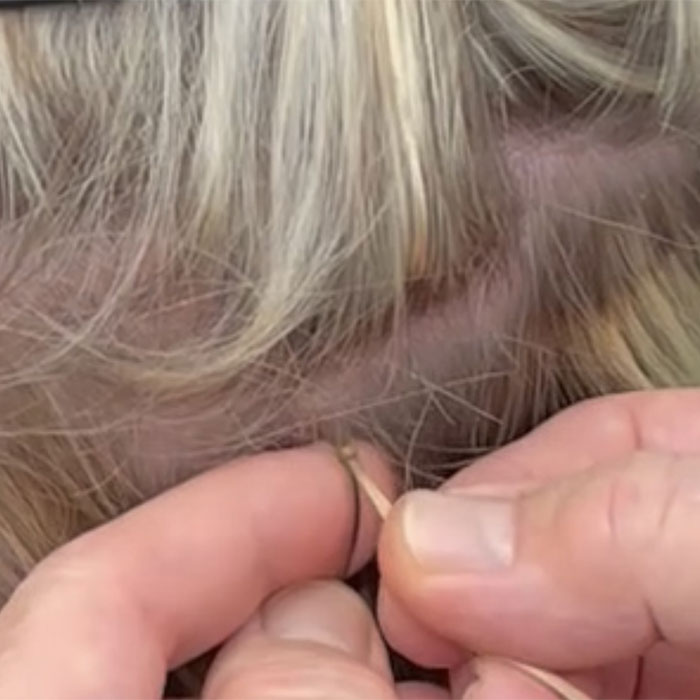 Insert a hair extension strand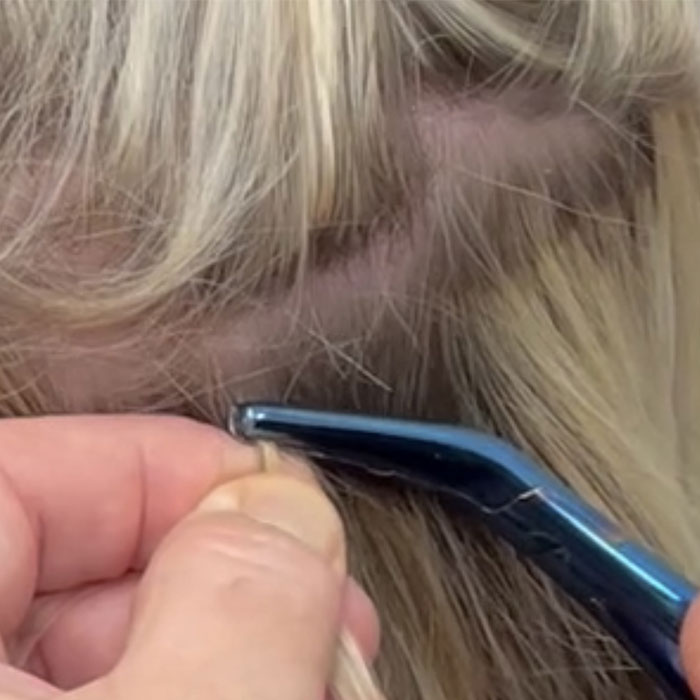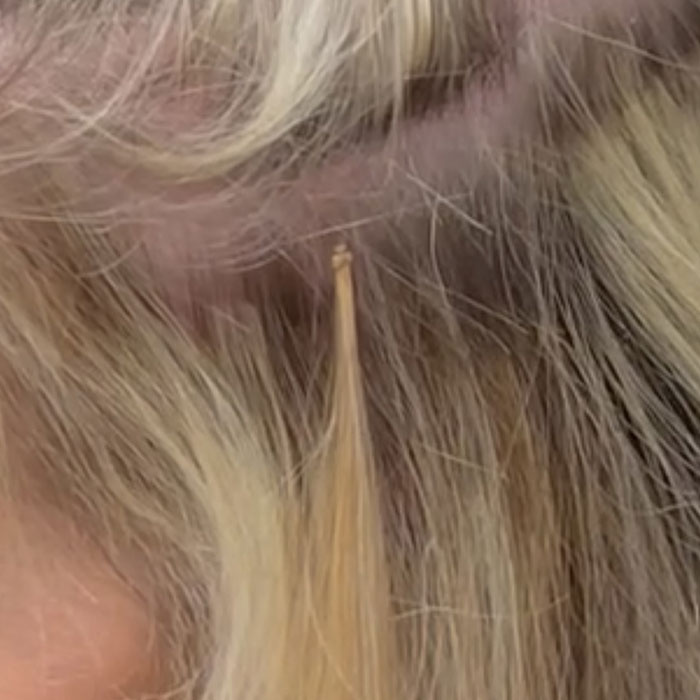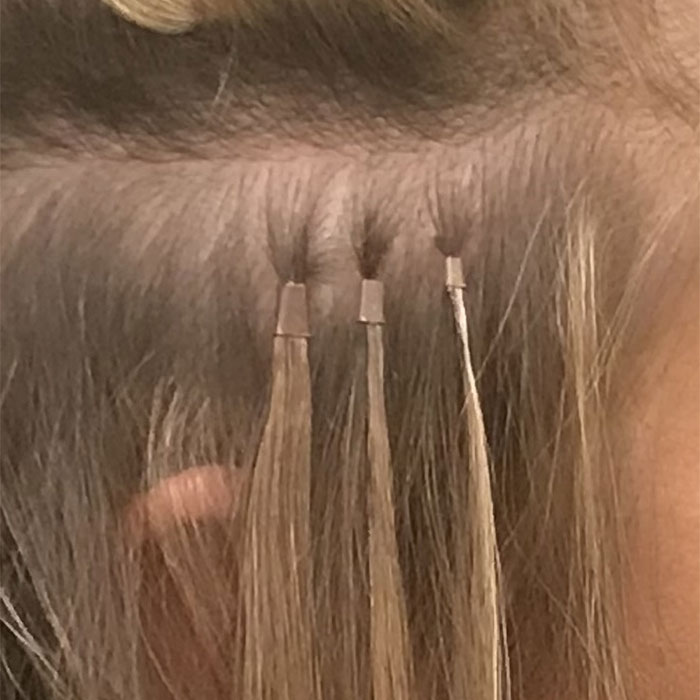 A variety of sizes and colors of beads are available, you can get the hair extensions applied on top, crown, temples, or bangs undetected. (Note: placing the beads in the same direction of hair stream is crucial to achieve that).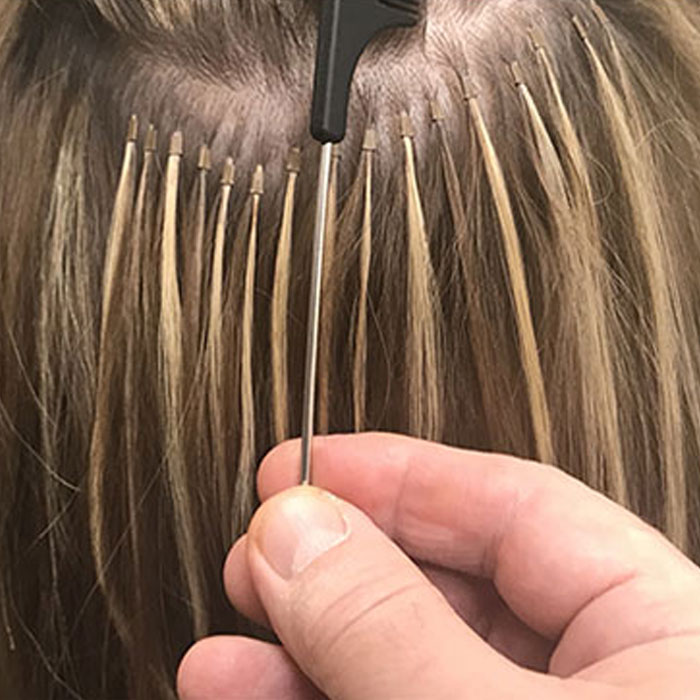 Beads can be as narrow as the diameter of tail-comb rod (even smaller).
Easy application of beads method.
Typical 7-star Bead Extensions with different NATURAL wave degrees (never permed):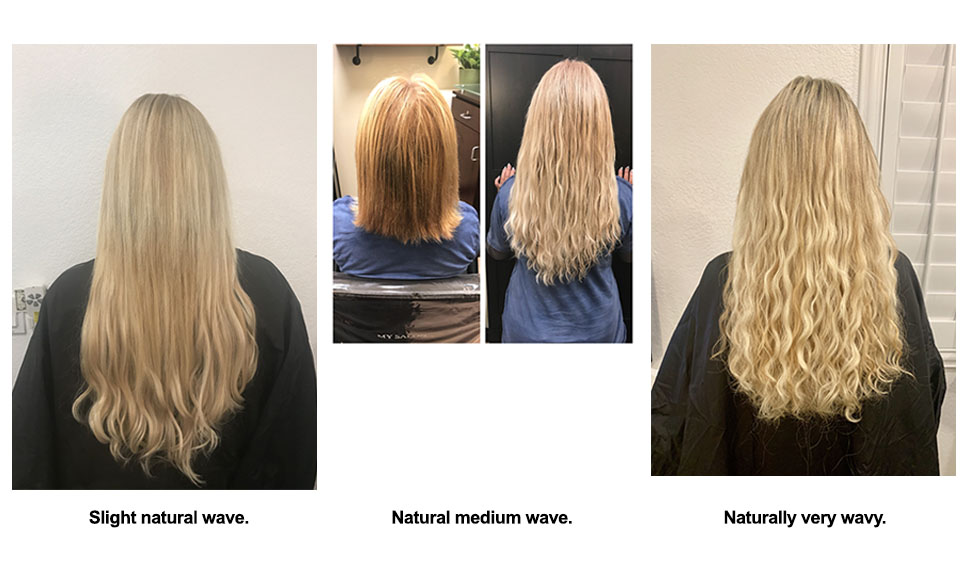 Method #2 – Tape Extensions:
Tape extensions are fast to apply, more affordable, and can achieve higher density compared to Individual method. It has a limitation of ability to elevate the hair 180°. See more details in Info page.
Application of Tape Extensions: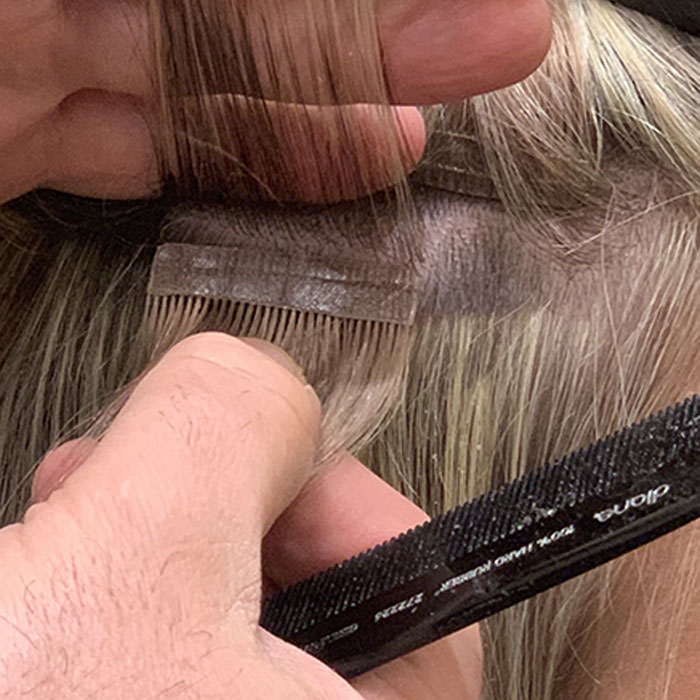 Separate a 1" wide thin section and place the lower weft underneath it.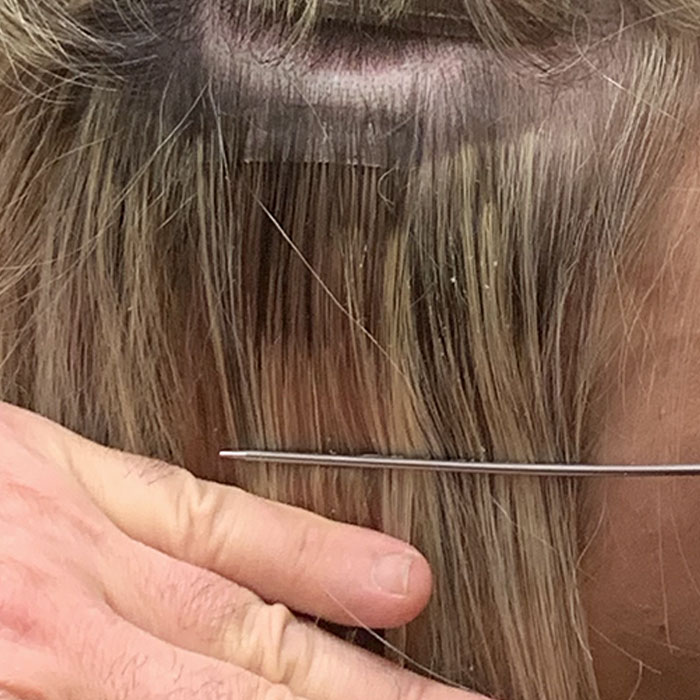 Press the selected section of your hair on the weft.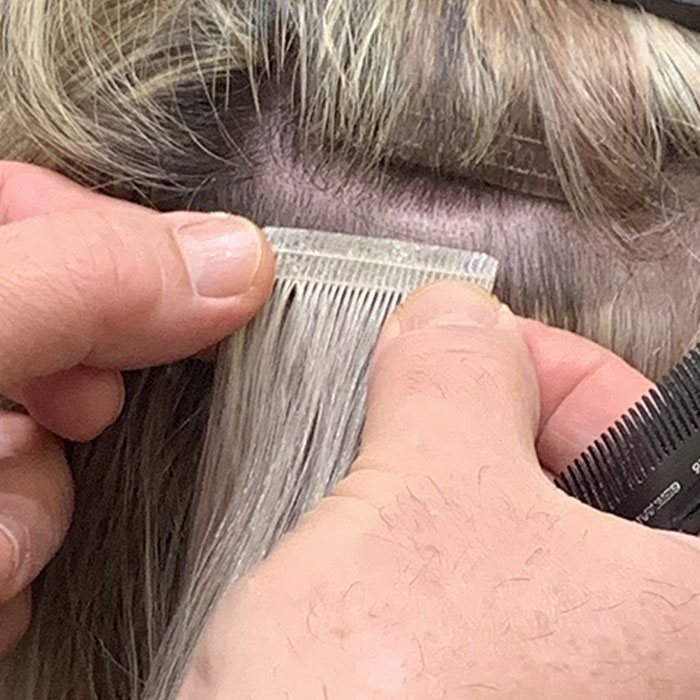 Apply the upper weft on it and press them tight together.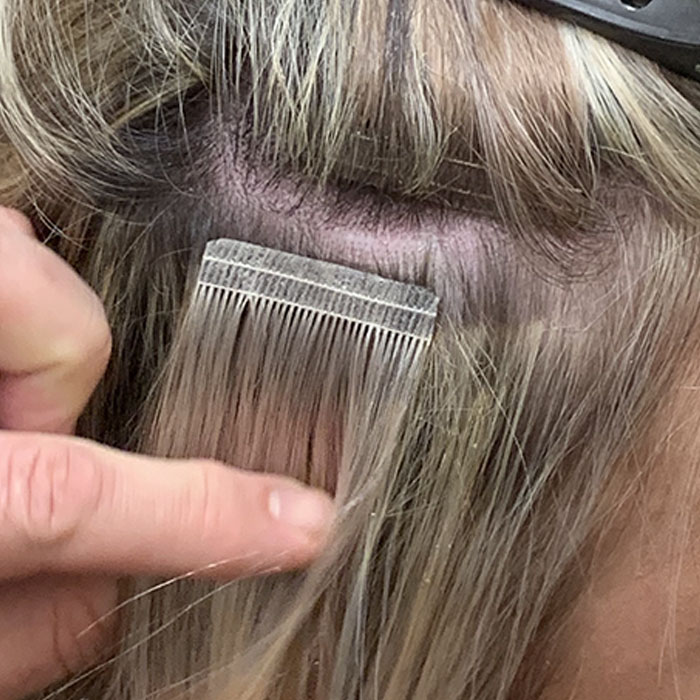 The Tab (a sandwich of 2 wefts) should lay flat, without any tension or discomfort.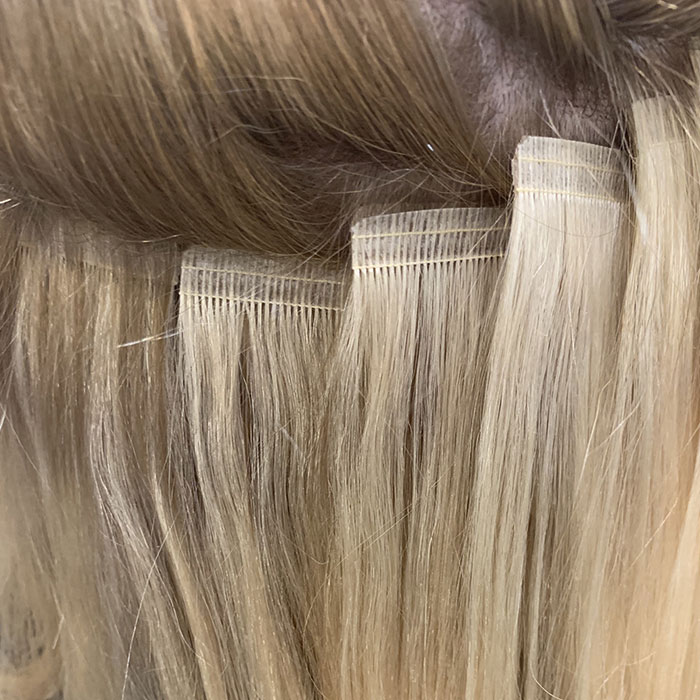 A brick lay (offset) pattern of tab application should be followed in order to prevent vertical splits in the whole head of extensions.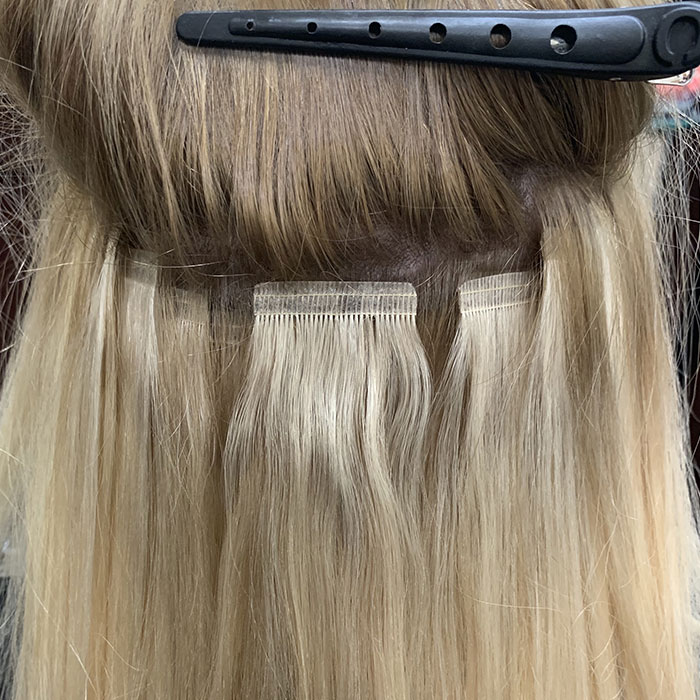 Single wefts are preferable for top layer since they are thinner and less visible.
Fast application, the tabs lay flat.


"Paul did an excellent job on my extensions. They look natural and last a very long time. I get lots of compliments! He's awesome at color too!!"